FEATURE

- Wide range of usage for the agttation, dispersion and dissolution for low viscosity product.
- The changing type of mixing tank makes the additional tanks be used, which maximizes the working efficiency.
- Working efficiency is high as the rotation speed of impeller can be controlled easily.
- Easy deaning and maintenance.
APPLICATION

- Paints and pigments
- Gravure inks
- Cosmetics
- Bonding agents
- Coloring agents
- Magnetic inks
- Emulsion
- Other viscous raw materials
OPTION

- Variable speed change (inverter)
- Explosion proof type of motor and control panel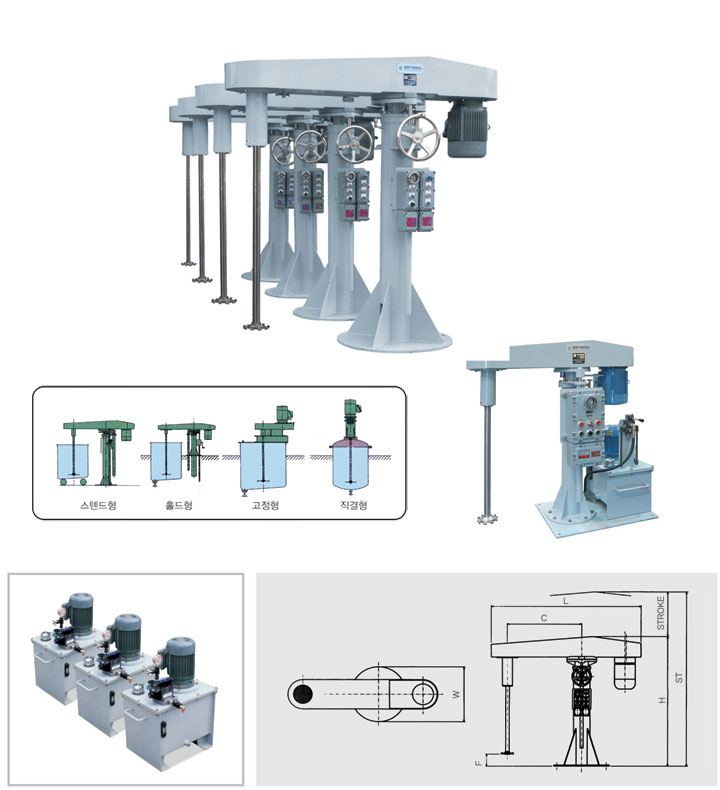 Specifications
Model
Motor (kw)
Mixing
Capacity(L)
Impeller
dia.(mm)
Impeller
speed(rpm)

Stroke
(mm)

C
H
L
W
F
ST
Weight
(kg)
Main
Pump
MD-3
2,2
0.75
50~100
125
1200
750
500
1050
1245
450
100
1800
550
MD-5
3.7
0.75
50~200
150
1200
1000
900
1780
1800
700
150
2780
600
MD-7.5
5.5
0.75
100~300
180
1000
1000
900
1780
1800
700
150
2780
650
MD-10
7.5
1.5
100~300
200
1000
1100
1000
1930
1935
800
150
3030
800
MD-15
11
1.5
200~500
250
1000
1100
1000
1940
1950
800
150
3040
1150
MD-20
15
1.5
300~700
250
1000
1200
1200
2130
2420
900
150
3330
1550
MD-30
22
1.5
500~1000
300
1000
1200
1200
2130
2320
900
150
3330
1600
MD-40
30
2.2
700~1500
330
900
1350
1400
2570
2450
1000
200
3920
1800
MD-50
37
2.2
1000~2000
350
900
1350
1400
2570
2550
1000
200
3920
2000