FEATURE

- Designed to be suitable for the dispersion of wide range of products.
- Small media can be used by the screen type of media separator.
- Mechanical seal is used for shaft sealing arrangement and several madlines can be connected to use.
- Excellent cooling efficiency.
- Easy to clean and disassemble / assemble.
APPLICATION

- Gravure inks
- Paints and pigments
- Paints for automobiles
- Magnetic inks (audio & video tape, computer, etc.)
- Pharmaceutical industry and biodlemistry
- Cosmetics
OPTION

- Explosion proof type of motor and control panel
- Material of Mixer (Stainless steel, Nylon)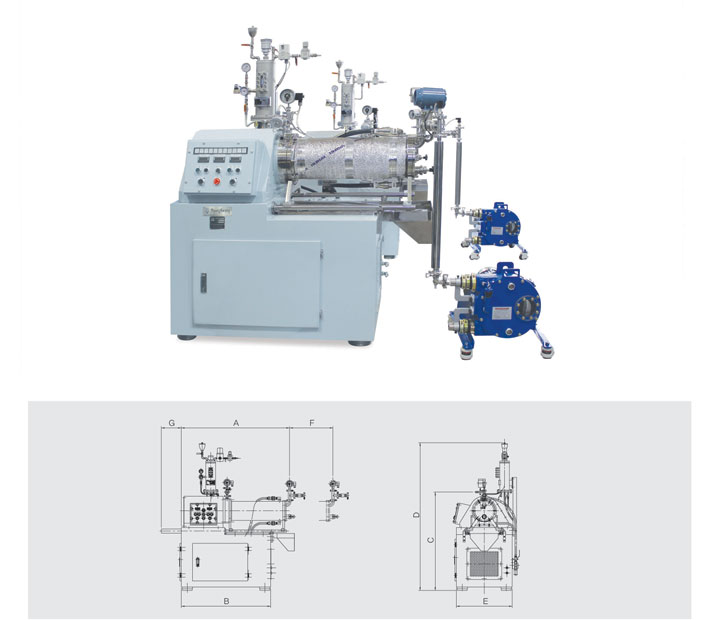 Specifications
Model
Vessel
Capacity
Motor(Kw)
Impeller
speed(m/sec)
A
B
C
D
E
F
G
Main
Pump
MH-1.5M
1.5
3.7
0.75
10,11
780
700
1122
1740
600
328
-
MH-5M
5
7.5
0.75
10,11
871
700
1108
1740
650
391
-
MH-10M
10
11
1.5
10,11
1187
1000
1358
2016
750
542
-
MH-20M
20
15
1.5
10,11
1462
1150
1408
2066
750
879
-
MH-30M
30
22
1.5
10,11
1576
1280
1408
2116
800
955
-
MH-50M
50
37
1.5
10,11
1796
1465
1508
2226
900
1000
-
MH-90M
90
55
1.5
10,11
2099
1750
1818
2546
1000
1190
425