FEATURE
- Designed suitable for ultra fine dispersion.
- Media separation device is a cylindrical screen.
As a centrifugal type rotating with rotor, small media of φ0.05mm can be used.
- Media seal is used for shaft sealing and several machines can be connected to use.
- Cooling even spinning rotor is possible. which makes the best cooling efficiency.
- Easy cleaning due to the smaller internal volume against the performance.
- Easy to assemble/disassemble with new separation device.

APPLICATION

- Gravure inks
- Paints and pigments
- Electromagnetic Materials
- Stationery inks
- Pharmaceutical industry and biotechnology
- Cosmetics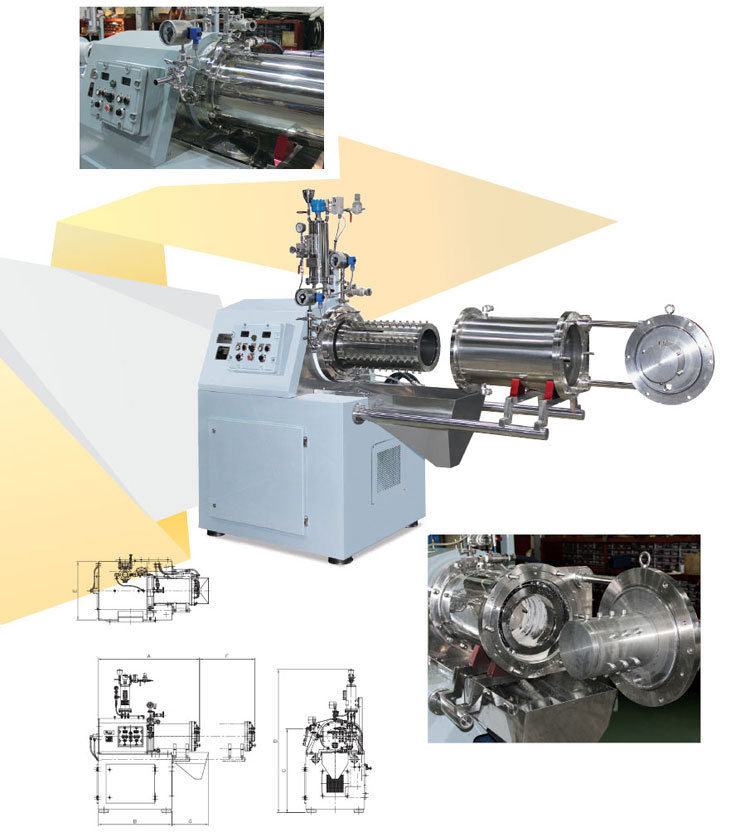 Specifications
Model
Vessel
Capacity
Motor(Kw)
Impeller
speed(m/sec)
A
B
C
D
E
F
G
Main
Pump
MFM-20
19.2
55
1.5
0~11.3
1565
1135
1291
2210
900
850
565
include_once('../_tail_en.php');?>