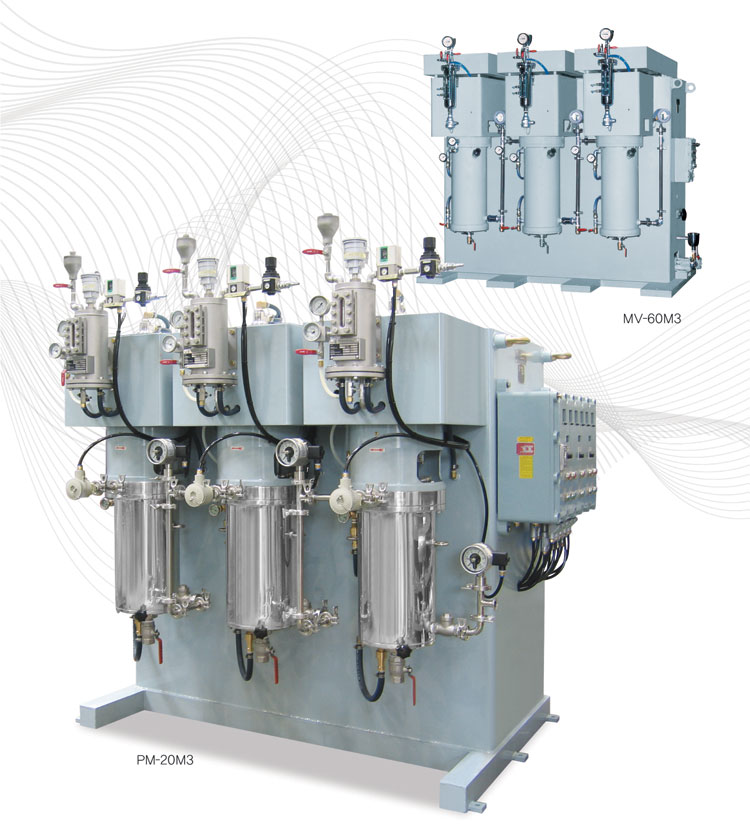 FEATURE

- Designed to be suitable for the dispersion of wide range of products and mass production.
- Disk gap type of media separation unit.
- Mechanical seal is used for shaft sealing arrangement and several madlines can be oonnected to use.
- Small space for installation oompared with horizontal type.
APPLICATION

- Gravure inks
- Paints and pigments
- Paints for automobiles
- Magnetic inks (audio & video tape, computer, etc.)
- Pharmaceutical industry and biodlemistry
- Cosmetics
- Food indusby (chocolate and sweet)
OPTION

- Explosion proof type of motor and control panel
- Material of Mixer (Stainless steel, Nylon)
Specifications
Model
Vessel
Capacity
Motor(Kw)
Impeller
speed(m/sec)
A
B
C
D
E
F
Main
Pump
MV-30M
30
18.5~22
1.5
10
1000
1075
1950
2250
1200
1390
MV-60M
60
30~37
1.5
10
1100
1350
2450
2600
1450
1640
MV-100M
100
37~55
1.5
10
1100
1500
2780
2930
1600
1790